Are God's Hands Big Enough?

Isaiah 40:12 Who has measured the waters in the hollow of his hand, or with the breadth of his hand marked off the heavens? Who has held the dust of the earth in a basket, or weighed the mountains on the scales and the hills in a balance?

Proverbs 30:4 Who has gone up to heaven and come down? Who has gathered up the wind in the hollow of his hands? Who has wrapped up the waters in his cloak? Who has established all the ends of the earth? What is his name, and the name of his son? Tell me if you know!
Isaiah 48:13 My own hand laid the foundations of the earth, and my right hand spread out the heavens; when I summon them, they all stand up together.
Habakkuk 3:4 His splendor was like the sunrise; rays flashed from his hand, where his power was hidden.
Sometimes in the everyday routines of our lives, we forget how awesome God is and tend to take His goodness for granted. At a low point in my life I was very depressed, suicidal in fact. No body knew, because I was too angry and proud to reveal what I was thinking of doing. But I had several alternative methods in mind, and had even envisioned my own funeral and how sorry every one would be who had treated me so badly.

So what happened? Obviously I didn't commit suicide, even though that is what my full intentions were. I pictured myself as a broken doll, thrown into a ditch, sodden and filthy. And all of a sudden two loving arms reached down and two loving hands picked me up, cleaned me off, healed my hurts and set me on my feet. But the most amazing thing was that my heart, which had been filled with hatred and loathing, was now full of love and joy, in the twinkling of an eye.

Deuteronomy 33:26-27 "There is no one like the God of Jeshurun [the upright one], who rides on the heavens to help you and on the clouds in his majesty. The eternal God is your refuge, and underneath are the everlasting arms. He will drive out your enemy before you, saying, `Destroy him!'
Now, I had not prayed or asked God for help. I'm sure that my mother and grandmother were praying for me, as they always have, but they didn't know in the physical realm what was on my mind, because I told no one. But in this instant, God reached down to me, and filled me with love and hope, and immediately I realized that I had been looking at life all wrong.
I had gotten "saved" 500 times or so, but never really believed God accepted me because I was such a failure in living the Christian life. That's why I kept getting saved, because I thought my salvation depended on my works, and my works were crummy.
But now, scooped up by the everlasting arms of God's love and held in His hands, I could see things from a totally different viewpoint. It was like being raised from the dead and looking down from Heaven and getting the whole picture. God loved me, He sent Jesus who died for me, and accepting that fact was what being saved meant!
The point is: Jesus had compassion on a poor struggling fool without a clue. I had no faith to claim a miracle with. My life was a mess. I was as good as dead. But my Lord loved me and raised me up in His hands and filled me with love.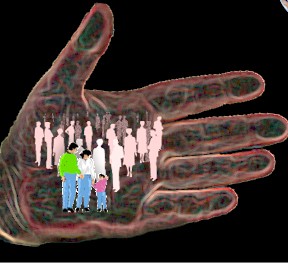 The Bible tells us that God keeps us in His hands
Psalms 37:23-24 "If the LORD delights in a man's way, he makes his steps firm; though he stumble, he will not fall, for the LORD upholds him with his hand."
Psalms 63:8 My soul clings to you; your right hand upholds me.
Psalms 139:9-10 If I rise on the wings of the dawn, if I settle on the far side of the sea, even there your hand will guide me, your right hand will hold me fast.
Isaiah 49:15-16 "Can a mother forget the baby at her breast and have no compassion on the child she has borne? Though she may forget, I will not forget you! See, I have engraved you on the palms of my hands…"
John 10:28-30 I give them eternal life, and they shall never perish; no one can snatch them out of my hand. My Father, who has given them to me, is greater than all; no one can snatch them out of my Father's hand. I and the Father are one."

God protects us with His hands:
Exodus 33:22 When my glory passes by, I will put you in a cleft in the rock and cover you with my hand until I have passed by.
Isaiah 51:16 I have put my words in your mouth and covered you with the shadow of my hand-- I who set the heavens in place, who laid the foundations of the earth, and who say to Zion, `You are my people.'"

Also God accomplishes victory for us with His hands:
Exodus 13:3 Then Moses said to the people, "Commemorate this day, the day you came out of Egypt, out of the land of slavery, because the LORD brought you out of it with a mighty hand…"
Exodus 15:6 "Your right hand, O LORD, was majestic in power. Your right hand, O LORD, shattered the enemy."
Psalms 44:3 It was not by their sword that they won the land, nor did their arm bring them victory; it was your right hand, your arm, and the light of your face, for you loved them.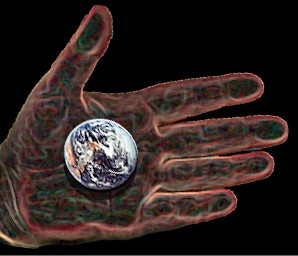 We are saved as a work of God's hands:
Psalm 98:1 Sing to the LORD a new song, for he has done marvelous things; his right hand and his holy arm have worked salvation for him.
Psalms 22:16 Dogs have surrounded me; a band of evil men has encircled me, they have pierced my hands and my feet.
John 20:25, 27 So the other disciples told him, "We have seen the Lord!" But he said to them, "Unless I see the nail marks in his hands and put my finger where the nails were, and put my hand into his side, I will not believe it."…
Then he [Jesus] said to Thomas, "Put your finger here; see my hands. Reach out your hand and put it into my side. Stop doubting and believe."

And also our lives are molded as clay in His hands:
Isaiah 64:8 Yet, O LORD, you are our Father. We are the clay, you are the potter; we are all the work of your hand.
Psalms 31:5,15 Into your hands I commit my spirit; redeem me, O LORD, the God of truth…My times are in your hands; deliver me from my enemies and from those who pursue me.
Ephesians 2:10 For we are God's workmanship, created in Christ Jesus to do good works, which God prepared in advance for us to do.

But are God's Hands BIG ENOUGH to hold us all?
Isaiah 40:12 says that God measured the waters in the palm or hollow of His hand. The total volume of the oceans is 1.369x109 km3 =0.13% of total volume of the earth. This is a cube 1.369 BILLION kilometers or 850,696,600 miles on each side. This is approximately 687 decillion gallons of water. A decillion is one with 33 zeroes after it. A trillion is one with 12 zeroes after it. We assume that God used this measure once when He measured the waters in the oceans. Can you imagine a hand big enough to hold that volume of water in the small hollow of the palm?

We are also told that He used the breadth of His hand to measure the universe, and set each star in place with His fingers. What mighty hands God has!

God is reaching out to us with His mighty hands of love
We can choose to be rebellious and stubborn and follow our wayward imaginations:
Isaiah 65:2 All day long I have held out my hands to an obstinate people, who walk in ways not good, pursuing their own imaginations--

Or we can humble ourselves under God's mighty hand, the hand of the Creator of all things, and He will hide us there and strengthen us, and in due time exalt us:
1 Peter 5:6 Humble yourselves, therefore, under God's mighty hand, that he may lift you up in due time.
Are God's Hands BIG ENOUGH?
| | |
| --- | --- |
| | Yes, God's Hands are big enough to save us all, to keep us all, to bring us victory, and to lift us up. Put yourself in God's Hands today! |
Images and Text c1998 by Karleen E. Page, all rights reserved.
The Open Heart
Downloadable copy in text format