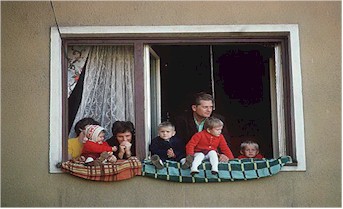 Matthew 19:14
Jesus said, "Let the little children come to me, and do not hinder them, for the kingdom of heaven belongs to such as these."



Jesus saw blessings in a different light:


Luke 6:20

Looking at his disciples, he said: "Blessed are you who are poor, for yours is the kingdom of God.
Matthew 5:3
"Blessed are the poor in spirit, for theirs is the kingdom of heaven.

Luke 6:21
Blessed are you who hunger now, for you will be satisfied.
Matthew 5:6
Blessed are those who hunger and thirst for righteousness, for they will be filled.

Luke 6:21
Blessed are you who weep now, for you will laugh.
Matthew 5:4
Blessed are those who mourn, for they will be comforted.
Luke 6:22-23
Blessed are you when men hate you, when they exclude you and insult you and reject your name as evil, because of the Son of Man. Rejoice in that day and leap for joy, because great is your reward in heaven. For that is how their fathers treated the prophets.
Luke 10:23-24

Then he turned to his disciples and said privately, "Blessed are the eyes that see what you see. For I tell you that many prophets and kings wanted to see what you see but did not see it, and to hear what you hear but did not hear it."
Luke 14:13-14

But when you give a banquet, invite the poor, the crippled, the lame, the blind, and you will be blessed. Although they cannot repay you, you will be repaid at the resurrection of the righteous."
John 13:14-17
Now that I, your Lord and Teacher, have washed your feet, you also should wash one another's feet. I have set you an example that you should do as I have done for you. I tell you the truth, no servant is greater than his master, nor is a messenger greater than the one who sent him. Now that you know these things, you will be blessed if you do them.
Acts 20:38
In everything I did, I showed you that by this kind of hard work we must help the weak, remembering the words the Lord Jesus himself said: `It is more blessed to give than to receive.'
Matthew 5:7
Blessed are the merciful, for they will be shown mercy
Matthew 5:8-9
Blessed are the pure in heart, for they will see God.
Blessed are the peacemakers, for they will be called sons of God.

Matthew 25:34
"Then the King will say to those on his right, `Come, you who are blessed by my Father; take your inheritance, the kingdom prepared for you since the creation of the world. For I was hungry and you gave me something to eat, I was thirsty and you gave me something to drink, I was a stranger and you invited me in, I needed clothes and you clothed me, I was sick and you looked after me, I was in prison and you came to visit me.'
"Then the righteous will answer him, `Lord, when did we see you hungry and feed you, or thirsty and give you something to drink? When did we see you a stranger and invite you in, or needing clothes and clothe you? When did we see you sick or in prison and go to visit you?'
"The King will reply, `I tell you the truth, whatever you did for one of the least of these brothers of mine, you did for me.'

Page of Blessings | More Blessings | Even More Blessings | Scriptures | Home



Web Page Design ©1998 Vibrant Pages Web Design


This page has been visited

times.
This page was last updated on 02/10/12.
Bible quotations from New International Version.
Children of the World from National Geographic Photo Gallery CD-Rom