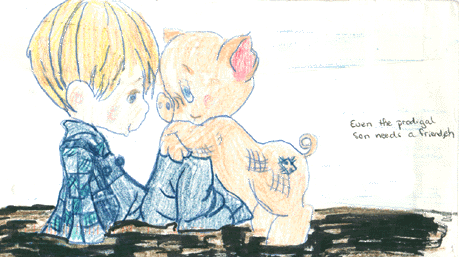 "Even a prodigal son needs a friend,eh" by Spitz
Father God we lift up this study to you and ask that you would anoint the teacher and the listener with understanding and love. In Jesus Name AMEN
Tonight I'm gonna tell you a story of two prodigals. The word "prodigal" means recklessly wasteful and Jesus told a parable about a young man who recklessly wasted his life. Before we look at that, I want to tell you a story I call "The Throw-a-way Kid".
There was a fella we'll call Swat, at least that's what his friends called him. He lived in an OK neighborhood and had an OK life ... but like some young teens, he wasn't happy. He didn't like school, in fact he hated it and those stupid teachers too. He couldn't stand his parents, and hated it when they told him to do something. Didn't want to listen to no body. He played his music loud as he wanted, and his room looked like a pig pen. Well one day his parents got on his case one time too many, and he decided to blow that one horse town, and go make a life for himself.
And he went to the BIG city ... after stealing as much loose change as he could find around the house. Of course he wasn't worried ... a smart fella like him could make it for sure. On the streets though, it wasn't what he thought it would be like. It was hard and cold and cruel. Met some "friends" who turned him on to dope. Course to support his habit, he had to ... well use your imagination.
One morning, they found him lying still in the gutter ... turned him over... and he was "smiling" from ear to ear ... someone had slit his throat. The throw-away kid. Yes that was an ugly story ... but it happens everyday in every major city here and in many other countries. A whole generation of "throw away kids" ... lost and without hope ... living on the streets ... with nowhere to go. Now let's look at a story with a happier ending.
Luke 15:11-12 Jesus continued: "There was a man who had two sons. The younger one said to his father, `Father, give me my share of the estate.' So he divided his property between them.
There was a man who was really well off ... he had a big farm with lots of cattle and plenty of crops. He also had two sons. The older one was hard working and industrious ... trying to do all he could to get approval from his father. The younger one ... well he didn't take to farming very well and had an "itch" to see the world, to make something of himself, to BE somebody.
Usually a person didn't receive their inheritance until the father died, but in this case, somehow, the younger son talked him into it. Now in those days the older son got the biggest share ... so the father gave the older son 2/3 and the younger son 1/3, and the younger son went on his way.
Luke 15:13-14 "Not long after that, the younger son got together all he had, set off for a distant country and there squandered his wealth in wild living. After he had spent everything, there was a severe famine in that whole country, and he began to be in need.
Well the younger son had a big time while the money lasted ... party, party, party ... all the time. He had lots of friends too ... and didn't give a thought for tomorrow. But one day, the money was gone. Not only that, but there was a famine in the land, and he got to the place he had nothing. All of those friends ... dropped him like "a hot potato" when there was no more money.
Luke 15:15-16 So he went and hired himself out to a citizen of that country, who sent him to his fields to feed pigs. He longed to fill his stomach with the pods that the pigs were eating, but no one gave him anything.
Now the lowest of the low jobs that a Jewish boy could do was feed pigs ... worse than cleaning toilets ... which shows how destitute he was. He was so hungry he fed on pig slop. And no body cared whether he lived or died.
Now I don't know if any of you have been upwind of a pig farm, but YIKES is that a nasty smell. And pigs roll around in the mud ... well you get the picture, smelly and in rags, the former "rich boy" was now in the grimy gutter eating pig slop.
Now he only had the pigs to ask advice of ... but for a period of time he just was sorta numb, wallowing in the mud with the pigs, being in need of food, clothing and shelter ... and nobody gave him anything.
Luke 15:17-19 "When he came to his senses, he said, `How many of my father's hired men have food to spare, and here I am starving to death! I will set out and go back to my father and say to him: Father, I have sinned against heaven and against you. I am no longer worthy to be called your son; make me like one of your hired men.'
One day he "came to his senses". He looked around and said to himself, "WHAT am I doing here?" He began to think of home and long for what he once took for granted. Even the hired men on his father's farm had food to spare, and here he was in wallowing in pig poop. He thought ... I WILL SET OUT and go back to my father.
There are a lot of people that get mired in sin, that get caught on the streets with no where to go, that are numb with fear and want ... who lose the WILL to do anything about it. The first step out is to confront the issues and state "I WILL... make a change!"
And his second step was to REPENT ... to admit his wrongdoing and make a change ... and be willing to take a lower place than what he formerly thought he deserved.
Luke 15:20 So he got up and went to his father. "But while he was still a long way off, his father saw him and was filled with compassion for him; he ran to his son, threw his arms around him and kissed him.
SO HE GOT UP ... out of the pig slop, out of his rebellion, out of his sin ... and went to his father.
Now dear old dad had longed for his son every day and watched for him to come home. We aren't told how many times he thought he MIGHT have seen his lost son on the horizon ... and ran to meet him ... to find it was someone else. We aren't told how many days he strained his old eyes, shading them from the sun with his hands, tearfully longing for a glimpse of his dear lost child.
But on THIS day, while the boy was still a LONG way off, the father saw him coming. Even in rags, there was something that told the father "IT'S HIM!" and the father RAN to his son, threw his arms around him, dirt and all, and kissed him.
BEFORE the son said his little "speech" he had rehearsed, before he even said, "I'M SORRY", the father's loving heart welcomed him home.
Luke 15:21 "The son said to him, `Father, I have sinned against heaven and against you. I am no longer worthy to be called your son. Make me like one of your hired men.'
son of man - The thief comes only to steal and kill and destroy; I came that they may have life, and have it abundantly---john 10:10
So the son came to his father, this time in humility, repenting of his sins against his father and God as well (against heaven), requesting a lower place that he had demanded before.
Luke 15:22-24"But the father said to his servants, `Quick! Bring the best robe and put it on him. Put a ring on his finger and sandals on his feet. Bring the fattened calf and kill it. Let's have a feast and celebrate. For this son of mine was dead and is alive again; he was lost and is found.' So they began to celebrate.
frozen chosen - you have to be humble before you can get grace, pappy
BUT the father said ... I love the BUTS in the Bible. Here the son was humbly repenting and asking to just be a hired hand, BUT the father had other plans. Praise the Lord!!! Sometimes when we have failed God we feel like we should no longer be His kids either ... but our failures do not change His heart of love or his plans for us.
Crystal - He is so merciful to forgive!
The first thing the father did was to bring the BEST robe and put it on the boy. Wait ... ol' pig pen here in the BEST robe? Yep that's what it says. And that's symbolic of how God covers all of our dirtiness and sin when we come to him in repentance.
Crystal - OT.. I had never thought of it that way.. "covering of our dirtiness and sin"..
Then the father put a RING on his finger. Do you know what a signet ring is? It has your initials on it. Back in those days a ring was a symbol of authority ... it was used to imprint the initials or symbols of the owner in wax or clay to validate legal documents and letters.
Chuck - OldTimer, Hadden from rbc ministries was explaining that in that culture, to see a man over 30 running was a public disgrace. The man would have to lift his robe, exposing his bare legs and his underwear just so he could run . The father took the shame of public humiliation instead of the son. When the son left, it was sure to cause an uproar in the town. Suddenly, they see the no-good son coming back to town . Certainly the son was in for some violent reactions from some of the town people. Yet they see the father taking shame upon himself just to go meet the son where he is And you know when we come to the Father through Jesus, and we are cleansed of sin, we are given FULL rights as sons, including authority over all the powers of the enemy?
So the RING was a symbol of his authority as a son of the house. It showed he was no "hired hand", but had been accepted fully back into the family JUST AS IF he'd never sinned and ran off.
Luke 15:22-24"But the father said to his servants, `Quick! Bring the best robe and put it on him. Put a ring on his finger and sandals on his feet. Bring the fattened calf and kill it. Let's have a feast and celebrate. For this son of mine was dead and is alive again; he was lost and is found.' So they began to celebrate.
And the father put sandals on his feet. The heavenly Father gives us the shoes of the gospel of peace. This signifies that we are no longer enemies of God, but at peace with him. The father also commanded that the fattened calf - reserved for only the most special occasions - be killed ... and a feast be made and a celebration held.
butterflygrace - old timer you shore gotta way with words- blessing my sock off- had to join just to say thanks

Crystal - Actually, if you truly walk with God.. you are humbled and walk WITH others.. not ON them... no matter who they are.

poa - yeah the elder brother gets mad that the kid comes home an gets whatever he wants
Do you know that the Bible tells us that the angels in heaven REJOICE over one sinner that repents? Every time someone comes to the Father by believing in Jesus, Heaven has a party! Glory ... sometimes new believers can't understand why us oldy moldy types get so happy when they repent. We're just rejoicing with the angels on high!
WHY? because before we come to the Father by Jesus, we are DEAD, but in Christ we are made ALIVE. We were lost, but now we're FOUND. Praise the Lord forever. So they set apart to have a BIG party ... rejoicing in the son that had come home.
Luke 15:25-26 "Meanwhile, the older son was in the field. When he came near the house, he heard music and dancing. So he called one of the servants and asked him what was going on.
MEANWHILE the older brother was still toiling in the fields ... trying to earn his father's approval. As he trudges home, he hearts the sound of music and dancing. "What is going on here?" he asked a servant.
Luke 15:27 `Your brother has come,' he replied, `and your father has killed the fattened calf because he has him back safe and sound.'
Crystal - having the TRUE love of our brothers (in Christ.. since that is what is symbolic).. we are always happy to see them return "home".. no matter who they are or what they may have done to us or others.. that is part of being humble and truly having the Love of the Lord in your heart.
pearl - OldTimer-was the brother trying to earn his fathers approval or just being obedient?
Pearl I believe that he was trying to earn his fathers approval by being obedient ... but was not standing in his rightful place as a Son, but toiling in the fields like a servant.
So the servant told the elder brother what had happened ... Well do ya think he was HAPPY that junior had made it back home "safe and sound"?
Luke 15:28 "The older brother became angry and refused to go in. So his father went out and pleaded with him.
Nope the older brother decided NOT to join in his brother's party, but to stay outside and have a "pity party" of his own. YIKES ... I've thrown myself quite a few of those... and they ain't NEVER fun! LOL And the father who loved both sons and wanted both to be happy, stopped his celebration and went outside the house and pleaded with his oldest son.
Luke 15:29-30 But he answered his father, `Look! All these years I've been slaving for you and never disobeyed your orders. Yet you never gave me even a young goat so I could celebrate with my friends. But when this son of yours who has squandered your property with prostitutes comes home, you kill the fattened calf for him!'
Then the older brother reveals the true motives of his heart - jealousy. He was so angry that all of his striving and work SEEMED to go unrewarded, but here this sinful so and so brother of his wasted all that hard earned money ... and now he comes home to a party with NO punishment whatsoever. You can almost hear him whine "IT AIN'T FAIR"!
Hmmmm .... haven't we all at times played the older brother's part? If we're honest .... Sometimes it doesn't seem fair that we live for the Lord all our lives and slave for Him, and yet he accepts those that maybe we feel don't deserve it?
Luke 15:31-32 "`My son,' the father said, `you are always with me, and everything I have is yours. But we had to celebrate and be glad, because this brother of yours was dead and is alive again; he was lost and is found.'"
Pearl - the TRUTH is none of us deserve it
poa - this is the part where I say ugh blah forget the other one
Ptl3 - No matter how much we suffer in this world, it will never compare to what the Lord suffered for us.
Pearl - amen! Pt13 and HE certainly did nothing to deserve the punishment of the cross, but all of us do?
Listen to what the Father is saying ... the older brother could have thrown a party for his friends anytime, he could have taken his place of authority as a Son and enjoyed the love of His Father ... BUT he was too busy trying to EARN his father's love ... and never stopped to RECEIVE his father's love.
And since the older brother felt he DESERVED and had EARNED his father's love ... he couldn't understand how the father could accept the younger son, who certainly didn't deserve anything!
Luke 15:31-32 "`My son,' the father said, `you are always with me, and everything I have is yours. But we had to celebrate and be glad, because this brother of yours was dead and is alive again; he was lost and is found.'"
Listen to what the father said. "We HAD to celebrate!!!" The father's heart of love could not contain itself. When the lost child came home ... "We HAD to celebrate", he says.
EagleWings - But how come they never did anything for the obedient son

poa - cause he had it all the time an never asked
Doesn't this tell you something about the older brother's heart? It was hard as a rock ... he had no compassion on his sinful, repentant brother. He was NOT imitating the life of love of the Father, although he was with the Father every day. He was trying to EARN what was his by right as a son, a gift of the father's loving heart. And he was unwilling to share with his lost brother anything the Father had freely given him.
Ptl3 - I think they did, He had the best all the time, he just didn't realize it.

EagleWings - neither did the prodigal ask
Now the Father in this parable is like God, who has given us all things freely to enjoy, and who loves us and longs for us, even when we are lost in sin.
poa - yes he did he did the repent thing said he wasn't worthy God showed him he was he didn't hafta do nothin but admit
The younger son is like many of us who took what God has given us and wasted it ... more or less in wild living... and find ourselves in the pig slop of sin... being in need and nobody seems to care.
But when we "come to ourselves" and remember the goodness of God, and admit our wrongdoing and ARISE and start home, we find that the Father is waiting and RUNS to meet us, taking us in His arms, pig slop and all, and giving us the kiss of acceptance, throwing His robe of righteousness over our sin, giving us the ring of a Son's authority, putting the shoes of peace on our feet, rejoicing and giving a big party - celebrating our return to Him.
poa - or ya could just find more pig slop

frozen chosen - exactly poa
Now others of us are like the elder son. We've been working hard for our salvation, going to Church every time the door is open, paying our tithes, living right, striving to be holy ... and when the younger son comes back ... do we share the heart of the Father and RECEIVE the sinner ... or do we throw a pity party and REJECT a man or woman for whom Christ died?
Chuck - OldTimer, also, the son didn't even get a chance to grovel to his father, like he had planned. The Father's only concern was that his son was back . Too often, I find myself doing just that when asking for forgiveness

Pearl - how do we know when someone is ready to repent and be ready for Christ? How do we know someone is headed toward home?

Grace - That was the complaint of the Pharisees, "This man receives sinners." But their complaint is our praise....and the basis for our hope and confidence. "This man - this living and loving Lord - receives sinners."

frozen chosen – a lot of people are 'comfortable' in sin, but it is short lived....in the end, it bites like a snake.

poa - so do Christians

Servant - when they are ready you don't have to do anything but speak
Pearl, we rely on the Holy Spirit, and love unconditionally no matter whether the person seems like they're headed towards home or not.
So back to "The Throw-a-way Kid" ... this young man is like the lost son in our story ... he has left home and found himself in a pig pen of sin ... he is lost and afraid, and maybe doesn't even have a home to go back to now. Or maybe his parents didn't want him in the first place. How is he and others like him... gonna know about the TRUE love of God ... who is gonna tell them?
Do we REALLY see the sinful people around us as lost SONS and DAUGHTERS of the most high God? Do we try to gently urge them home, or stomp them deeper into the muck? DO we go where the sinners are ... like Jesus did... or do we expect them to come to us?
Grace - Pearl, Jesus didn't always go to "comfortable" places....*S*
Allow me to share something that really happened to me. My father was an alcoholic ... even though he had been a Christian when he and mom were first married. But some "Christians" drug him into some kind of stupid controversy and ruined his faith.
And we literally BEGGED the people at church to come witness to him and try to help him. Some told us, "If he needs help, let him come to the Church [building]" Well, he wasn't about to come back to the people who had hurt him [although it was a different church] for help! And I often wondered if they really cared. If they were really praying. Cuz if they were, wouldn't the Lord have urged someone to help? Jesus went where the sinners were ...
Well my mom was faithful... and the Lord loved my dad through her and us children ... and my dad did give his heart to the Lord before he died. So he's waiting for us in heaven!
LoveUAbba - Praise God, OldTimer...the Lord is faithful!
But I've always wondered, if some of the "elder brothers" in the Church had at least attempted to befriend my father and just love him... if some of those years of misery could have been wiped out ... if we could have been celebrating as a family instead of in pain.
frozen chosen - that's really sad that those Christians, if you could call them that, would do that, but praise the lord he'll be waiting for you in heaven OT
So I've made it one of my goals as a Christian not to fall into the "elder brother syndrome". I want to love everyone I possibly can ... and accept them as men and women for whom Christ died.
Servant - unconditional love>is expecting nothing in return… in our old nature it's very hard to do but you can ask Jesus to love them through you
I would rather be accused of loving TOO much than hating ANY.
Father we pray that you will take the lesson tonight and plant it deep into our hearts. May we at all times show the love of the Father and RECEIVE those lost sons and daughters that you have received. Soften our hard hearts and let us freely rejoice in the love you have given us despite our sinfulness. In Jesus Name AMEN