I have a hard time remembering much about my childhood. All my memories seem to be associated with houses we lived in.

Our first home was a tiny place on Shull Road in Roanoke, Virginia. A little frame house with eat-in kitchen, 2 bedrooms, I bath, heated by an oil floor furnace. I badly burned my hand on the metal sides of that furnace one year when I disobeyed mom and was melting crayons on it. My room was an old closet next to the bathroom that had been converted by simply putting a single bed and a small dresser in it.

We have a huge family bible that stayed on the coffee table on the living room. I literally teethed on it, and it still bears my childish crayon marks. But mom must not have fussed at me over it, and I still love that book above all others.

Pictures mom took show a happy child dressing up and playing. My memories show a terrified little girl cowering before horrible nightmares. I can remember dreaming about reading the funny papers and seeing Dick Tracey come alive and try to hang, knife and shoot me. That was one night I can remember running to mom's bed and snuggling close.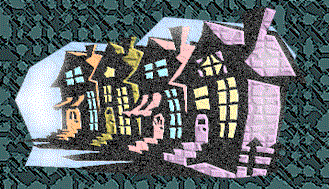 Another night I dreamed of a monster with pins stuck all over him. Funny, someone else must have had that nightmare, because I've seen the same guy in a popular horror movie.
Halloween was always associated with fear, too. The first Halloween I remember, someone we knew came to the door dressed as a clown. For some reason this terrified me, to hear a familiar voice coming out of a strange face. Never have really liked clowns since. I guess that's why later in life, when I realized that Halloween has satanic origins, it wasn't too hard for me to let it go.
Now I know these nightmares in a large degree stemmed from a child trying to deal with the ravages of alcoholism on a beloved father. Plus the devil was trying to keep me from knowing and serving God so I could fulfill my destiny. But I did learn that what I put into my mind affected my thought life and dreams, especially if I watched horror movies.
I think I was a bit of a disappointment to my mom, because I hated dressing up, especially in scratchy frills and lace, and didn't like to play with dolls. Dolls frightened me for some reason, especially a little "pickaninny" doll that was black and had little pigtails all over her head. I made mom hide it. Again, someone else must have had that fear and made horror movies about evil dolls.
I went to summer Bible camp when I was about 8 for a week and when I came home, my parents had moved! At least they told me about it and took me to my new home, but the transition always bothered me. One day I lived one place, and a week later somewhere else, without any warning. It was a feeling of being unwillingly uprooted and not belonging that has plagued me all my life.
The new house must have seemed a lot better to my parents, for it was new, a two-story brick home on two lots in the new subdivision my grandpa was building, Cherry Hill, also in Roanoke, Virginia. It was my grandpa's house, I think, but he let us live there. Mom worked for him as a secretary in his construction business. There was a huge old house about 3 or 4 blocks from our house, that had all kinds of twisting passages and interesting rooms in it. A small part of it had been converted into an office for grandpa's business, but most of it was gloomy, dilapidated and adventurous. My brothers and I found two gravestones in the basement and spent many hours imagining what that meant. There was an ancient grave yard in the woods below our house with a brick wall around it and several above ground vaults. We toured it often and were very brave about it too.
I had gone from a tiny school, Tinker Creek Elementary, with one room for each grade, the library in the hallway, and no cafeteria, to a huge brick prison like structure with endless murky halls (Broad Street Elementary) in Salem Virginia. I always felt out of place, lost and confused in that school. My clearest memory is of a sixteen year old epileptic having a seizure in my 4th grade math class. And being chastised publicly for not finishing endless pages of long division math homework. I can also remember having emphatigo on my legs, which my mom kept bandaged, but that left scars. The other kids thought I had leprosy or something and avoided me. I also remember not being able to jump rope very well.
In the fifth grade, a brand new school was opened, called East Salem Elementary, which is near the Salem Veteran's Administration Hospital. It was bright and new and I must have excelled at school work, because the school decided to put me in an experimental class that summer to polish off the sixth grade and advance me to a higher level. I didn't want to go to summer school, but my grandpa said he'd send me and my mom to California if I did. So I went, no air conditioning, sweltering through boring subjects while I knew my friends were playing, swimming and laughing outside somewhere. The only highlight was learning to play the "Tonette", some kind of flute that sounded like a kazoo.
Well, I barely passed, and mom and I did go to California. We had relatives there and visited Disneyland (the original), Knotts Berry Farm (the jelly people), Tijuana, Mexico, and a lot of other neat places.
After all this fun I faced the 7th grade as a 12 year old, totally out of place. What the authorities and my parents didn't realize was that my social skills were far behind my peers. Not only was I a year younger, at least, than all of them, but because of a dysfunctional home life, I was even more immature. So I don't recommend this kind of advancement for anyone.
8th grade brought another move and change of housing. My grandpa had finished building Cherry Hill and moved on to build Montclair, a subdivision then in Roanoke County, near Salem, now annexed to Roanoke City. I tell people I grew up with sawdust in my veins because one of the neat things about having a builder in the family was the possibilities for exploration. We children were always welcomed on the building sites, as long as we were careful and stayed away from heavy machinery. I remember clambering over clods of dirt, finding metal "slugs" to use as play money, early on learning how to hammer and saw, seeing the excitement of an unfinished plot being excavated, foundation poured, basement poured, walls go up, roof go on, trim carpentry, dry wall, and final painting. That's why I can relate so well to the Body of Christ as a building, and get so excited about the Kingdom being built, although the early stages are often very messy.
The house we lived in was a lovely two-story old brick farm house with a veranda porch and twenty rooms counting the basement and attic, which I would only go near in the daylight! There were fields around it and small wooded areas to explore. My mom would help us fix snacks and drinks and pack them in a lunch bag, and we were free to spend hours hiking. Plus my grandpa built a swimming club for this subdivision and we were automatic members! In a way these were the happiest years of my life.
There was fear, too, though, and I was sure the attic was haunted and possibly the basement too. I kept my door firmly closed and made sure the attic and basement doors were shut too. But I still had trouble sleeping, especially one night when the moon was full and blood red. I had read the prophecy about the moon becoming as blood and was sure the end had come.
My father was still drinking heavily, and one night tried to kill us. His brother and cousin were visiting. Usually my father drank beer, and was abusive and cursing, which was bad enough. But this night, they were drinking vodka and popping some kind of pills. For some reason, my father became angry at my mom, pushed her down a flight of stairs and tore her blouse. She was bruised and shaken but otherwise unhurt.
My uncle, S. B. Evans, tried to control my father while his cousin, Ted, was egging him on. Ted was a boxer and in his drunken state must have believed he was at a championship fight. I guess that's why I've never cared for boxing or wrestling in a ring. I've seen the real thing and it's ugly.
Uncle S. B. ended up getting his leg broken, and my father got out one of his rifles and loaded it and threatened to kill us. Mom grabbed the three of us, herded us out of the door, and we ran through the muddy pastures for dear life. He did fire the gun, but whether he was aiming at us, I'll never know. We ended up on top of the hill at my uncle Don Radford's house, sobbing, muddy and terrified. Uncle Don and Aunt June tended to us and we stayed the night there. Mom had dad arrested, but they released him the next morning.
One day, my father left chicken out on the kitchen counter to thaw. I had two cats who were my best friends, and somehow they got into the house and jumped on the counter to eat the chicken. Pretty natural behavior for carnivores. But my father was drinking and became enraged, took his gun and killed them. I held them in my arms as they died, cooled and stiffened, then buried them. He was very apologetic, but they were still dead.
Once my father became angry at my brothers for some unremembered reason, and began flogging them with a TV antenna cord, a hateful length of plastic with two wires running down the edges. I was in the room reading, and when he'd brought the blood to their tiny legs, he jerked me up and did the same to me. That was the first and only time he beat me. When he sobered up, he was ashamed of what he'd done to the apple of his eye.
I started the 8th grade at Northside High School, which was then in Roanoke County. I was a good student, but hated high school because of all the cliques and emphasis on outward appearance. My father was still drinking, so we didn't have the money for nice clothes or things, plus I couldn't bring friends home because I never knew when he would be in a drunken rage.
My beloved grandpa died in September 1964, which was devastating to me. He had been one of the strengths in my life and a refuge I could count on. What was worse, after this death and the estate settlement, we had to move again. And the buyers of the land and farm tore it all down to make room for new "development", a subdivision of what I gleefully called "cracker boxes" whose basements cracked that first winter, since they were so poorly constructed.
Our next home was a dilapidated two-story house with green asbestos siding. It sat precariously on a hill and there was hardly any yard. There was a stony, weed-filled plot at the bottom of the hill which I valorously tried to garden in for several years, without much success. My brother Mike and I continued at Northside High School, but my brother Ricky had to attend Andrew Lewis High School in Salem.
I lived here until I started college, and this is where I finally learned how to fight the fear, depression and nightmares that had tormented me all my life.