Illness
Learning to Rest in Jesus
December of 1984 was unseasonably balmy. I remember the Friday before Christmas we had the doors and windows open. My children, Laura, who was then 4, and Seth, who was 2, were outside having a ball. I watched our local lunatic, Harry, as he sauntered by on his daily rounds - to the store, to the firehouse, to the library and back home. Harry was a Korean War Veteran who was quite proud of being crazy. He boarded at the house across the street. He wore headphones so large they looked like earmuffs and the guys at the firehouse called him "Stereo". I fixed myself some lunch: Kraft™ macaroni and cheese, store-bought cauliflower, and home-canned tomatoes.
Immediately after eating, I began having strange sensations of heat that began at my knees and went up to my head in waves or pulses. My heart began beating rapidly and my head was swimming. My chest felt like a gorilla was sitting on it and my throat was tight and I had trouble breathing. My left arm was hurting. I had to keep going to the bathroom. Alarmed, I called an ambulance. I didn't know what was wrong, but I knew I needed help!
Harry came by about then, and I told him what was happening. He said, "Well, I'd better go then, because if you die, they'll think I did it!"
I begged him to stay. When in time of dire need, even a lunatic is better than no one! The ambulance finally came, they took me to the hospital. The physician thought at first that I was having a heart attack. He kept monitoring my heart, but it was fine. Finally, the symptoms subsided and they let me go home with the diagnosis, "indigestion and nerves" whatever that means. I asked the doctor what I should do if it happened again and he said, "It probably won't."
The next day, I had a few milder symptoms about the same time of day, but not severe enough to warrant returning to the emergency room. That's a terribly expensive place to have indigestion. The following day, I had some very mild symptoms, and thought, "Good, whatever it is, is working its way out." Boy, was I wrong!
On Christmas Day, after breakfast, the symptoms returned as strong as ever. By now I had decided I probably would not die, so I toughed it out. Unfortunately, my troubles had just begun. I began having these symptoms at three-day intervals. The first attack would be severe, the next less severe, the third mild, and then the cycle would start all over again. My ex-husband was so helpful, he said it was all in my head, and if I had a better attitude I'd be fine.
Finally, I went for medical help. The doctors at Lewis Gale Hospital tested me for every exotic disease they could imagine. I well know how a guinea pig feels! I wore a 24-hour heart monitor, had to swallow gunk so they could videotape me swallowing, had a radioactive iodine injection, had to swallow a tube, and so on. I kept telling them that these "attacks" felt like an allergic reaction I had had to bee stings, but they continued to ignore me.
I became so ill that I could not care for my children. I lost 60 lbs. and became so weak I could hardly get out of bed. I moved in with my mom because I worried so about my kids. I kept getting worse, but because I had been so overweight, everyone thought I looked great. They would say, "You look great! What have you been doing?" I'd say, "I've been sick"' and then they'd invariably say, "Keep up the good work!"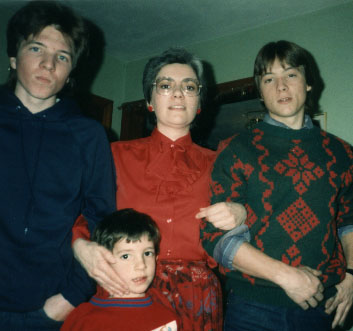 My step sons, Ben and Barry, and little Seth at my mom's while I was ill.
After I don't know how many tests, the doctors decided that I was "hyperventilating". They told me to breathe in a brown paper bag and take Valium, which I did for a while. I was desperate. I stayed on valium for a couple of months and continued to live with my mom.
Since that really didn't cure me, just "tranked" me out, I finally did go to my allergy doctor. He said that there was yellow dye in the Kraft™ macaroni and cheese, and probably sulfite on the cauliflower, and either one or both of them could cause such a reaction. He said he couldn't test me for these substances because he could easily kill me. He put me on an elimination diet, but cautioned me that it would be 2 weeks to a month before I felt better because it took the body that long to rid itself of those type of substances.
I felt better just knowing that I hadn't lost my mind. My ex-husband was still convinced that I was crazy. But after about two weeks on the Feingold diet, I did improve. In about a month, I was able to go back home and resume a lot of my duties. It was about a year however before I approached anything like normal, and there are areas in which I never have fully regained my stamina.
Occasionally, I would inadvertently eat something that had a preservative in it and get sick. I had reactions to: crackers, cashews, grapes, potatoes, potato chips, baking power and some brands of cheese and milk. I gradually quit going to restaurants because I found that neither the managers, cooks or waitresses had any idea what was in the stuff they were serving. It was too great a risk to take.
Ironically, at the same time my allergy to bees got worse, and that year after the sulfite attacks started, I got about 6 bee stings, which is 6 too many if you go into shock like I do. At this time, I discovered that there was sulfite not only in the adrenaline shots I was giving myself for the strings, but in the Benadryl I was taking also. It's a miracle I didn't kill myself trying to cure myself. (I now use DYE FREE PRESERVATIVE FREE Benadryl.)
When I was having such severe allergic reactions and lost so much weight - I was fearful and couldn't rest. Upon top of the physical and mental results of the reactions, I would often have panic attacks as well. And would have panic attacks even when I was NOT actually having an allergic reaction... if I even SAW a bee in the room, for example. My aunt said to me, "What are you so fearful of? Jesus will take care of you no matter what, and If you DO die (which was a possibility, I was so weak), you will be with Him. Rest in Jesus!"
Jesus said, "Come unto me, all ye that labour and are heavy laden, and I will give you rest. Take my yoke upon you, and learn of me; for I am meek and lowly in heart: and ye shall find rest unto your souls. For my yoke is easy, and my burden is light."
Matthew 11:28-30, KJV
At first I resented what she said, but then I got to thinking about it and decided that she was right. So I looked up all the verses I could find about rest, peace and quiet, and began to meditate on them.
For it is by grace you have been saved, through faith--and this not from yourselves, it is the gift of God--not by works, so that no one can boast. For we are God's workmanship, created in Christ Jesus to do good works, which God prepared in advance for us to do.
Ephesians 2:8-10, NIV
I felt guilty that I wasn't doing anything "for the Lord" or to earn my keep, and I learned that was a FALSE guilt. My family (except for my X) was more than happy to help, in fact, considered it a joy to return to me some of what I had given them. And I learned something very exciting! Jesus never wanted all my "works" in the first place! All He wanted was "quality" time with me! And we had such sweet fellowship, with me too weak to hardly walk, in the presence of my Lord, giving Him what He really wanted all the time - the adoration of my heart.
Jesus said, "Peace I leave with you; my peace I give you. I do not give to you as the world gives. Do not let your hearts be troubled and do not be afraid. "I have told you these things, so that in me you may have peace. In this world you will have trouble. But take heart! I have overcome the world."
John 14:27,16:33
And the Lord gave me this verse: Psalms 141:2 (English-NIV) "May my prayer be set before you like incense; may the lifting up of my hands be like the evening sacrifice." The prayer of my heart and the lifting of my hands in praise was equivalent to any act of worship - it was all I could offer and Jesus was pleased with it.
"As Jesus and his disciples were on their way, he came to a village where a woman named Martha opened her home to him. She had a sister called Mary, who sat at the Lord's feet listening to what he said. But Martha was distracted by all the preparations that had to be made. She came to him and asked, "Lord, don't you care that my sister has left me to do the work by myself? Tell her to help me!" "Martha, Martha," the Lord answered, "you are worried and upset about many things, but only one thing is needed. Mary has chosen what is better, and it will not be taken away from her."
Luke 10:38-42, NIV
I tend to be a "Martha", rushing around doing - we need to be "Mary's", sitting at Jesus feet and resting in His peace. And the treasures gained from sitting at Jesus feet WILL NOT be taken from you! Rest in Jesus!
For God, who said, "Let light shine out of darkness," made his light shine in our hearts to give us the light of the knowledge of the glory of God in the face of Christ. But we have this treasure in jars of clay to show that this all-surpassing power is from God and not from us.

We are hard pressed on every side, but not crushed; perplexed, but not in despair; persecuted, but not abandoned; struck down, but not destroyed. We always carry around in our body the death of Jesus, so that the life of Jesus may also be revealed in our body.

For we who are alive are always being given over to death for Jesus' sake, so that his life may be revealed in our mortal body. So then, death is at work in us, but life is at work in you.

It is written: "I believed; therefore I have spoken." With that same spirit of faith we also believe and therefore speak, because we know that the one who raised the Lord Jesus from the dead will also raise us with Jesus and present us with you in his presence. All this is for your benefit, so that the grace that is reaching more and more people may cause thanksgiving to overflow to the glory of God.

Therefore we do not lose heart. Though outwardly we are wasting away, yet inwardly we are being renewed day by day. For our light and momentary troubles are achieving for us an eternal glory that far outweighs them all. So we fix our eyes not on what is seen, but on what is unseen. For what is seen is temporary, but what is unseen is eternal.

2 Corinthians 4:7-18, NIV
But he said to me, "My grace is sufficient for you, for my power is made perfect in weakness." Therefore I will boast all the more gladly about my weaknesses, so that Christ's power may rest on me.
2 Corinthians 12:9, NIV
I still struggle with MCS, or Multiple Chemical Sensitivity - also known as Environmental Illness (IE), although the Lord has brought tremendous healing in my life. I take it one day at a time, and strive to enter into HIS rest ... and seek to follow Him. Having physical problems does NOT mean that Jesus does not love you or that you do not have "enough" faith. It means that we still live in earthly bodies, vessels of clay. It means that the devil tries to destroy us through our weaknesses and that the Lord wants to strengthen us through them. I still seek complete healing, and no matter what avails me on this earth, I know that one day I will receive a resurrected body not subject to disease or death. With that I content myself, and rest in Him.
Sulfite Facts: "The Chemicals We Eat" from a speech I gave in 1988.