The Bible says Jesus loves YOU whether you FEEL like He does or not. Remember we talked before about walking by faith, not feelings? There's sometimes when I don't FEEL like God loves me either, but you know what? I BELIEVE He does because the Bible tells me so! "Jesus loves me, this I know, for the Bible tells me so! Little ones to Him belong, They are WEAK but HE is strong!"

"For I am persuaded that neither death nor life nor angels nor principalities nor powers nor things present nor things to come nor height nor depth nor any other creature can separate me from the LOVE of GOD which is in Christ Jesus my Lord!" Romans 8:38-39

Merry Christmas! Yes we're having Christmas in July again, studying Luke 2!

Father God we bless your holy name tonight and rejoice in your presence. Thank you for the opportunity to study your word. Jesus, thank you for coming to earth to show us your great love, poured out upon all of us whether we deserve it or not. Holy Spirit thank you for your loving protection, guidance and counsel in our lives.

satan we come against you in the Name of our Savior, Jesus Christ, bind you and rebuke you and cast you out in Jesus Name.

Holy Spirit we ask you to be our teacher and bring the light of understanding to our hearts. In Jesus Name AMEN!

John 14:26 But the Counselor, the Holy Spirit, whom the Father will send in my name, will teach you all things and will remind you of everything I have said to you.

Last time we talked about the birth of Jesus in Bethlehem in Luke 2:1-12. We had a little quiz to see how much we knew about Christmas according to the SCRIPTURES. Would you like to try another one? You won't be graded or anything!

OK, these are True/False statements. (I didn't get them all right the first time I saw them, so don't panic!) Remember this is according to the Scripture.

There are no records of Joseph speaking in the Christmas story. True or False?

True. I'm sure that he said something, but there is absolutely no record of him speaking at all.
The wise men were three kings from the orient. True or False?

Z - weren't they like astrologers??

False! The number of wise men is not mentioned. They were not kings. Yes Z, they were astrologers from the East.
The little drummer boy came to the manger after the other shepherds. True or False?
misfit - what drummer boy?

Z - isn't that just the song??
Score one for Amisfit! The answer is false! There is no mention of a drummer boy in the Bible.
The star did not appear above the manger. True or False?
The answer is TRUE! It appeared above the house where Joseph's family was living (Matthew 2:9-11).
Jesus' ancestors include a prostitute, an adulterer, a woman who committed incest, and a non-Israelite. True or False?
Jesus' ancestors include a prostitute, an adulterer, a woman who committed incest, and a non-Israelite. TRUE! Believe it or not... Rahab was a prostitute, David & Uriah's wife were adulterers, Tamar & Judah committed incest, and Ruth was from Moab. Matthew 1:3,5,6. Not a pretty family tree is it? But see, if Jesus had an awful family tree and was still accepted by God, so can you!
The wise men did not arrive on the night of Jesus' birth. True or false?
True. The wise men arrived sometime after Jesus is born (Matthew 2:1). Jesus is called a child, rather than a baby (Matthew 2:11). He may have been as old as two (Matthew 2:7,16). And the holy family was in Nazareth, not Bethlehem.
God sent a choir of chubby angels to announce Jesus' birth to the shepherds. True or false? Watch out this is a trick question.
Cowgirl - No they were skinny
FALSE is correct! Actually God sent an army of warrior angels. See Luke 2:13. "Company" and "host" are military terms. CG I believe they were probably muscular! LOL Warriors usually aren't skinny! Unless they're sumo wrestlers.
Shepherding was considered a very noble occupation. True or false?

The answer is False. In first century BC, shepherding was close to what we would consider garbage collecting. Shepherds were unable to remain ritually pure according to pharisaic laws and so were considered unclean. Yet God chose them for His birth announcement.

Z - yes and look at David!! Jesus is from David's line!!

son shine - I think it is neat he accepts us all
After the angels announcement the shepherds went straight to Bethlehem to see Jesus. True or false?
Correct. They were excited! They did not hesitate. They did not pass "Go" and stop to collect their $200. Luke 2:15-16.
Some of the shepherds doubted and refused to believe the message they heard from the angels. True or false?
The answer is false. They went to see the baby right away, they spread the word, and they praised God for what they had been permitted to see and hear. No doubt there. Luke 2:15-20. This brings us up to date from last week - we start at the announcement to the shepherds.
Luke 2:8-11 And there were shepherds living out in the fields nearby, keeping watch over their flocks at night. An angel of the Lord appeared to them, and the glory of the Lord shone around them, and they were terrified. But the angel said to them, "Do not be afraid. I bring you good news of great joy that will be for all the people. Today in the town of David a Savior has been born to you; he is Christ the Lord."
"Just as Jesus was born in a humble place, so the first announcement of His birth came to humble men." Shepherds were classed with prostitutes and tax collectors as scum because 1) they could not keep the ceremonial law, which restricted for example, the touching of dead things; and 2) they traveled around with loose habits: no fixed residence and few scruples about other people's property. They were considered so untrustworthy, shepherds were forbidden to testify in court.
I want you all to be thinking about this; why did God have the angels announce Christ's birth to these sort of people?
"Some have suggested that the flock over which they watched was one kept especially for temple sacrifices If so, how interesting it is that those who guarded the sacrificial lambs should be the first to hear of the birth of the Lamb of God!" Remember that Jesus is the Lamb of God that takes away the sin of the world, and that He died on Passover as our sacrifice, to give us eternal life.
Z - I thought that ...because Jesus was sent for ALL of us...not just the clean, healthy and upright...but for the lowest of us as well
Now we celebrate Jesus birth on December 25, but it is almost certain that he was NOT born in the winter. The fact that Luke states that the shepherds were abiding in the fields is clear proof that Christ was not born in December. Shepherds never kept flocks in the open in the winter from October or November until the next spring (Matthew 24:20). It was customary to send the flocks out AFTER the Passover (around April) to stay until the first rain in October or November. It may well have been that the Lamb of God was actually born in the spring (15 Nisan - April) at the time of the other Passover lambs, and that the shepherds were carefully watching over their flocks to protect the newborn lambs.
Hebrew Months: 1. Nisan (Mar/Apr) 2. Iyyar (Apr/May) 3. Sivan (May/Jun)
4. Tammuz (Jun/Jul) 5. Ab (Jul/Aug) 6. Elul (Aug/Sep) 7. Tishri (Sep/Oct)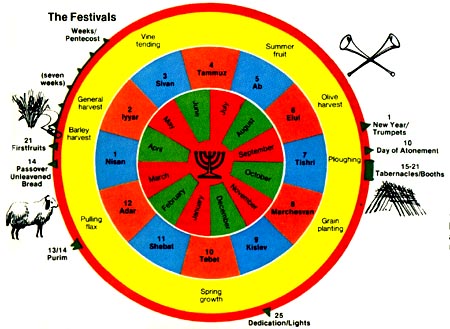 8. Marchesvan (Oct/Nov) 9. Kislev (Nov/Dec) 10. Tebet (Dec/Jan)
11. Shebat (Jan/Feb) 12. Adar(Feb/Mar)
Why do we celebrate Jesus birth on Dec 25 then?
son shine - it a started a pagan holiday and people did not want to change I think

misfit - because its convenient; the 26th just wouldn't work for me.

Cowgirl - it is a day set aside to represent his birth, cause we really don't know
It might interest you to know that the early Christians did NOT celebrate Jesus birth. Birthdays were a Roman custom. Christmas was established as a holiday in the 4th century, and the church picked Dec 25th because it was a pagan holiday they wanted to replace. It's the winter solstice - the shortest day of the year, and many pagan holidays were celebrated then. One was the Roman holiday Saturnalia, a feast in honor of Saturn.
son shine - I think it was the birth of a false god
Right SS, the birth of the Risen Sun, I think.
Z - that's cool!! the risen sun...risen SON!! God is soooo awesome!! what a wonderful sense of Humor He has!!
Anyway, I think it's interesting that Passover has a fixed date in the Jewish calendar (15 Nisan) and we celebrate it on a different Sunday each year, but Christmas has a fixed date for us, and we really don't know when Jesus was born.
son shine - I know a man that won't have any thing to do with Christmas because all this
OK now here's the bonus point question you're supposed to be thinking about .... Why do you think that God had His Son's birth announced to such people as the shepherds rather than to the nation's official shepherds (leaders)?
son shine - because that did not love him? they would have had him killed, as they did when they did find out
One reason I think is: The religious leaders were not doing their job in shepherding Israel. Like Ezekiel prophesied:
Ezekiel 34:1-2 The word of the LORD came to me: "Son of man, prophesy against the shepherds of Israel; prophesy and say to them: `This is what the Sovereign LORD says: Woe to the shepherds of Israel who only take care of themselves! Should not shepherds take care of the flock?
The religious leaders were more concerned about their OWN righteousness and had made up many laws that common people couldn't keep. The other leaders were more interested in currying favor with the Roman oppressors and didn't care about the flock either.
Ezekiel 34:3-4 You eat the curds, clothe yourselves with the wool and slaughter the choice animals, but you do not take care of the flock. You have not strengthened the weak or healed the sick or bound up the injured. You have not brought back the strays or searched for the lost. You have ruled them harshly and brutally.
The leaders had enriched themselves and neglected the care of God's people. They hadn't brought healing to them, or searched for those going astray. And worse yet, they had ruled harshly and brutally.
Ezekiel 34:5-6 So they were scattered because there was no shepherd, and when they were scattered they became food for all the wild animals. My sheep wandered over all the mountains and on every high hill. They were scattered over the whole earth, and no one searched or looked for them.
See God's heart of love for us? Even when we don't think He cares, when our shepherds don't watch out after us, God sees us and is concerned. That's why He sent us the Good Shepherd, Jesus. And I think by having the birth of His Son announced by angels to the lowly shepherds, He was trying to remind the leaders of this prophecy in Ezekiel and trying to get them to see the wickedness of their ways.
I think He also did it as a symbol of those that Jesus was coming to save - the lost, the despised, and the outcast. Hey that sounds a lot like you and me! Even though we may be as "low as you can go", we are NEVER too low for God to exalt if we submit ourselves to Him.
What does God think about our shepherds (pastors) today who seem to be more intent on building THEIR OWN kingdom instead of shepherding God's lambs?
son shine - it would be better if a millstone were tied about their neck, that is if they lead the flock astray
Now I know there are some good pastors, and I know many of them. But it concerns me that some are perverting the gospel for their own gain. And their judgement is just - but they are dragging many down with them and preventing many from coming into the Kingdom!
Lord help US to be good shepherds of the flock you've put under our care. Give us a servant's heart and a shepherd's hand. Help us to think more highly of others than we do of ourselves. And act as people who must give an account to their Master. AMEN
The newborn baby is called Savior, a term that the Gospel accounts do not often use. Soter is the Greek word, and it means more than just salvation of our souls, it means health, wholeness and deliverance! Hallelujah! Whatever you need, Jesus is your soter - your savior, deliverer, and healer! Praise Him! This Savior is also Christ the Lord. Among the Jews the word Lord (Adonai) was used instead of Jehovah (YHVH), the personal name of God. So the angel may have been saying that the long-awaited Christ or Messiah is God as well as Savior.
Luke 2:12 This will be a sign to you: You will find a baby wrapped in cloths and lying in a manger."
| | |
| --- | --- |
| | The KJV says "swaddling clothes". These were strips of cloth wrapped around the baby to protect it and make it feel secure. I have NO idea how they "changed diapers". LOL I guess it is similar to how native Americans wrap the papoose and carry it around on a cradleboard. |
"So the shepherds would be able to find the Christ child they were given a sign. He would be wrapped in strips of cloth or swaddling clothes and lying in a manger. There may have been other babies in Bethlehem wrapped in swaddling clothes but is it highly unlikely that any of them was lying in a manger. " Remember a manger is a feeding trough for animals and the holy family was bedded down in a stable of some kind.
Luke 2:13-14 Suddenly a great company of the heavenly host appeared with the angel, praising God and saying, "Glory to God in the highest, and on earth peace to men on whom his favor rests."
Amplified: Then suddenly there appeared with the angel an army of the troops of heaven - a heavenly knighthood - praising God and saying, Glory to God in the highest [heaven], and on earth peace among men with whom He is well-pleased - men of good will, of His favor.
Why did God send WARRIOR angels to announce Christ's birth? Are there any other kind of angels????
Hebrews 1:7 In speaking of the angels he says, "He makes his angels winds, his servants flames of fire."
Psalm 103:20 Praise the Lord, you his angels, you mighty ones who do his bidding, who obey his word.
Hebrews 1:14 Are not all angels ministering spirits sent to serve those who will inherit salvation?
According to my studies, all the angels are mighty warriors and are part of God's army! And quite possibly they came not only to announce Jesus birth but also to protect the infant from satan!
Z - because Jesus became/is our Mighty Warrior...come to destroy and defeat Satan and bring us to salvation...and to protect the baby??
The angelic choir was called a "host", a term often meaning army or strong military host, but they came not with clashing swords but with a song extolling peace. It must have mystified the angels to see their leader born as a baby! But they were obedient to God even though they don't understand everything that's going on. Paul said these things the angels desire to look into.
1 Peter 1:12 It was revealed to them that they were not serving themselves but you, when they spoke of the things that have now been told you by those who have preached the gospel to you by the Holy Spirit sent from heaven. Even angels long to look into these things.
What do you think "peace, good will to men" (2:14) means?
Amplified: "on earth peace among men with whom He is well-pleased - men of good will, of His favor."
The world can never experience peace as long as sin reigns in men's lives "The angels promised peace only to those who pleased God by walking in His ways. We need to understand also that this was a promise of internal peace, not necessarily a promise of a life free of strife and conflict (but) the "peace that passeth understanding", the calm assurance we can know when we place our lives in Jesus' keeping. Storms may rage about us, persecutions may engulf us, yet we can be at peace because we trust in Him." The good news is - if we receive Jesus in our hearts - we receive God's good will and peace!
Luke 2:15 When the angels had left them and gone into heaven, the shepherds said to one another, "Let's go to Bethlehem and see this thing that has happened, which the Lord has told us about."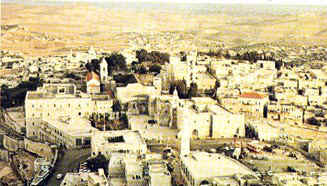 Bethelehem
Instant obedience! See how the shepherds didn't question, they just obeyed. Now, would the religious leaders obeyed the angels, or would they have convened a conference to discuss it? Would the secular leaders have obeyed, or would they have called a committee meeting to discus the political ramifications?
Kinzie - called a committee unfortunately

Z - they would have discussed it , rationalized it...
The shepherds may have been "low class", they may have been "ignorant", but they knew angels when they saw them and believed the message was from the Lord.
How quick are we to believe and obey when we hear the word of the Lord? Do we need to convene a conference, appoint a committee, do a feasibility study first? God is looking for those who are available and willing; not necessarily talented, or wealthy, or educated. But available and willing. Hey, ANYBODY can do that! Say, "Here am I Lord, send ME!"
Kinzie - good point....so many times the flesh gets in the way and says is that from God or is it just me...the old strength in numbers idea always seems reassuring
| | |
| --- | --- |
| Luke 2:16 So they hurried off and found Mary and Joseph, and the baby, who was lying in the manger. | |
Notice that they HURRIED off to obey. They didn't fool around until it was daylight, or they packed their gear, or asked someone what they should do about the angel's message. They HURRIED.
OlePappy - God knew that they would heed His message
Now the word "found" has the connotation found "BY SEARCHING". They didn't stumble upon the holy family right away - they had to do a search! They knew to look in stables, because the baby was in a manger. But how many stables they had to search is not revealed. They were PERSISTANT. They kept on searching until they found the Lord. If you are searching tonight, BE PERSISTANT until you find the Lord. Don't settle for some watered down gospel, some new age junk, or some pagan alternative. Search until you find HIM.
Luke 2:17-18 When they had seen him, they spread the word concerning what had been told them about this child, and all who heard it were amazed at what the shepherds said to them.
When they found the Lord, what did the shepherds do? They SPREAD the WORD - They didn't keep it to themselves. Remember they were outcasts, despised, couldn't testify in court - but they didn't let others' opinion of them keep them quiet.
"All who heard it were amazed at what the shepherds said to them". These were amazing events. Possibly some didn't believe because the report was from lowly shepherds. Others may have been puzzled. But some must have believed and they were all amazed. Now the Bible doesn't say if others sought out the child or not. But I believe I would have tried to find Him for myself.
| | |
| --- | --- |
| Luke 2:19 But Mary treasured up all these things and pondered them in her heart. | |
Wow, think of the effect of all this on Mary. First as a virgin pledged to marry Joseph, she sees an angel, Gabriel, who tells her that she will bear Jesus. Then she endured the long hard trip to Bethlehem, birthing Jesus in a stable, and now the report of the shepherds of the angelic choir. "The events of during the first weeks after the birth of Jesus were very special to Mary, and she thought a great deal about them (2:19), an indication that Luke's information for this portion came from Mary herself."
Luke 2:20 The shepherds returned, glorifying and praising God for all the things they had heard and seen, which were just as they had been told.
So the shepherds returned rejoicing and praising God! This should be our response to the birth of Jesus - praise and rejoicing! His coming means our salvation and redemption through His blood. Praise Him forever AMEN.
Father God thank you for the study tonight. Bless the hearers of the Word and help us put it into practice. AMEN
I wish I could express to you all how much I love you in the Lord! Blessings and peace upon each one of you!