| | |
| --- | --- |
| | Bible Study Comments |
Comments can be reached by clicking on the numbered links below:

1 Welcome To Bible Study Comments
Think of this as YOUR bulletin board to share resources, thoughts, ideas and questions. To start things off, let me ask you this: do you believe that Christians are under law or grace? This is the primary theme of the book of Galatians and the answer will determine to a large degree what other doctrines you trust in. E-mail your comments to oldtimer@churchusa.com.

Do you have a favorite Bible verse that you'd like to share with us? E-mail the Bible reference and WHY the verse means so much to you and I'll publish your message on this page! Send the verse and WHY it's your favorite to oldtimer@churchusa.com

3 Psalm 34:1
One my favorite verses is Psalm 34:1, I will bless the Lord at all times; His praise shall continually be in my mouth. He is my I Am...in Him I live and move and have my being...He is the Author and Finisher of my life and I am ever grateful for the abundant Grace, Mercy, Hope, Joy, Peace and Love He shows me. I will seek His Face and delight in the Lord forever!! For He is Great and greatly to be praised!! May His Love, Peace, Righteousness and Joy be with you now and forever. In His Loving Name, Z. (Posted 4/20/98 by Z)

4 Proverbs 3:5-6
I first heard Proverbs 3:5-6 in a song by Dion, and it spoke to my heart. "Trust in the Lord with all of your heart and lean not on your own understanding. Acknowledge the Lord in all of your ways, and he will direct your paths." I had always taken pride in my intelligence and resourcefulness but they have always failed me and gotten me in trouble in times of trial. The Lord wants us to put our complete trust in Him and he will never lead us astray, but will keep us going in the right direction. From time to time I still struggle with my own understanding and try to choose my own path, and when I do He brings back that old song to my heart and I eventually surrender to Him. Thank you oldtimer for letting me share this with the world. BSoC (Posted 1/1/98, Bond Servant of Christ)

5 Isaiah 41:10
I have a favorite verse. It is Isaiah 41:10. I do not have my Bible with me, but I will try to remember every word as stated in the Bible. Please forgive me if that does not work out. Make sure that I wrote it right.Thanks.
Isaiah 41:10 So do not fear, for I am with you; do not be dismayed, for I am your God. I will strengthen you and help you; I will uphold you with my righteous right hand.
The verse states to me that no matter what trial I go through I can lean on God. For he will protect me and stregthen me to deal with the trials at that moment. (Posted 4/8/98 by Cynthia Ohrns)

6 Joshua 1:9
Hi it is me Star. I am sure most of you who will reach this page or see this message know me by now. If you don't, the only thing I want to say right now is that Jesus truly is my life and I am most interested in following Him and His word. My favorite verse would have to be Joshua 1:9. The Lord gave this to me a few years back in a time when I was struggling. This verse was spoken to Moses and to all believers by God the Father, the Great I Am. Joshua 1:9: "Have not I commanded thee? Be strong and of a good courage. Be not afraid neither be thou dismayed for the Lord Thy God is with thee withersoever thou goest." And one more thing.. I have learned lately to give God all the glory. HE truly deserves it so... TO GOD BE ALL THE GLORY! (Posted 1/14/97 by Star)

7 Psalm 27:1
The LORD is my light and my salvation-- whom shall I fear? The LORD is the stronghold of my life-- of whom shall I be afraid? or something like that well like it because it is a cool verse and my favorite. I really don't know why I like it. (Posted 11/14/97 by JoJo)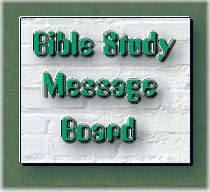 This page has been visited times.

Created by Vibrant Pages™Web Design Graphics ©1998, James W. Page
Web Content © 1998, Karleen E. Page
All rights reserved.
Revised: May 02, 2001.